Over the past couple of months I've had the opportunity to use the Kinu M47 handheld manual grinder. Even though manual grinders are not exactly new, there is a lively market for them. Often, they are far better than their similarly priced electric counterparts as well.
The humble hand cranked grinder
Manual grinders are basically slightly modified spice grinders, they've been around for ages and haven't changed all that much. Two burrs, one stationary, one with a shaft with a handle. But is there still a place for a grinder sans power cord in today's world of electric grinders with numerous settings, modes and temperature controlled grind chambers? Absolutely.
Manual grinders generally are a lot easier to throw in your suitcase and take on a trip. Good luck doing that with a Mazzer Super Jolly, Mythos One or EK43. They also take up a lot less space on your countertop. Size and weight aside, manual grinders are in a different price class. Also, very little no impact on your energy bill.
Kinu M47
At first glance the M47 looks like a fancier rendition of a run of the mill coffee grinder. That all changes once you pick the grinder up, and take it for a spin. The brushed stainless steel body feels hefty and solid, the handle and knob light. And by hefty I mean 1100 grams hefty.
During the actual grinding, you'll find that it takes very little effort to keep the handle moving. Even a particularly tough bean isn't too much of an issue. The thumb stop near the top of the grinder makes sure that you'll have a good grip on the grinder. No death grip required.
Ground coffee not quite right? Loosen the locking nut, adjust the grind setting, tighten the lock nut. Easy peasy, you don't even have to remove the catch cup or flip the grinder upside down to make that adjustment. The adjustment dial is front and center on top of the grinder. With 50 steps per revolution, the dial allows for near stepless adjustment.
Speaking of that catch cup, there's some clever stuff going on there as well. The cup itself is held on by 11 tiny magnets, which makes it a breeze to remove and replace. In fact, I don't even use both hands anymore to put the cup back on.
The main component in any grinder are the burrs. The M47 has a hardened metal burr set with a 'black fusion treatment' coating. I've found that in comparison to other steel burrs, these seem to be less prone to static buildup. The geometry of the burrs has a big influence on grinding time. Total grinding time is different for every person, bean and grind setting. The M47 is obviously slower than electric espresso grinders in coffee shops, but it's decent competition for household electronic grinders.
But there's one thing that's even more important than any physical feature of the grinder: the result. The M47 shines in finer espresso grinds where it has great grind consistency which makes it that much easier to make repeatable shots or brews.
So what's the catch?
Now that we have the infomercial bit behind us, let's get down to the nitty gritty. There are a few absolutely minor things that grind my gears a bit (see what I did there?).
First and foremost is something that isn't even specific to this grinder but applies to every single grinder without a lid on the hopper. Popcorning. Popcorning is when chunks of coffee beans pop back out of the burrs and make their way back out of the grinder. The M47 has a relatively small opening on top to pour beans into, which has the added benefit of restricting popcorning. But, popcorning is still an issue, albeit a minor one.
While the opening is a bit narrow, it is somewhat shaped like a funnel. I weigh the beans to be ground in a small glass cup, which helps to pour the beans into the grinder without spillage. It can get a bit hairy though if you want to dump beans in straight from the bag, but then again, you should really be measuring what you grind anyways 😉
Most of the grinder is easy to clean, but the inside of the body of the grinder is a bit harder to reach. While it's very easy to remove the catch cup, handle, shaft and inner burr, it's quite hard to get good access to the inside of the tube. The upper and lower bearing carriers are fixed in place, as is the outer burr. I've found it easiest to use a small brush with a long, thin handle. I'd suggest cleaning it periodically to keep any sort of build up to an absolute minimum.
The magnets in the catch cup do a terrific job of attaching the cup firmly to the grinder, but the small plastic ring that holds the magnets is a bit of a bottleneck. It makes a bit harder to clean and requires a few extra shakes in order to get all the ground coffee out, but that's a small price to pay for how convenient those magnets are.
One last point of attention should be the grind consistency for very coarse grinds. Grind consistency gets slightly worse the coarser you grind. This, however, is true for all burr grinders to some degree. Even with the best equipment it's near impossible to break two similar beans down into exactly the same size particles. Larger particles will be ground down, but particles that are smaller (so called fines) have a better chance of bypassing the burrs partially.
Verdict
Generally reviews of gear are all a bit rushed. Reviewers only have the item for a short amount of time and that severely limits the real world experience. You won't get a good feel for what a grinder is capable of when it has brand spanking new burrs. Burrs need to be broken in so to speak. So when Kinu told me to take my time, I did just that.
The M47 is a great grinder with a couple of unique features. The grinder is easily dialed in, quite fast in chewing up the beans and espresso grind sizes are very consistent. It's also pleasant in day to day use because of its thumb stop and easy to turn handle.
I've also thrown a variety of different brewing methods at it. I started with my E61 espresso machine but then also used it with the V60, Aero Press and Chemex. Eventually I dared using it with my La Pavoni, which is notably finicky to get good, repeatable shots from. Guess what, the M47 with the La Pavoni is a great combo.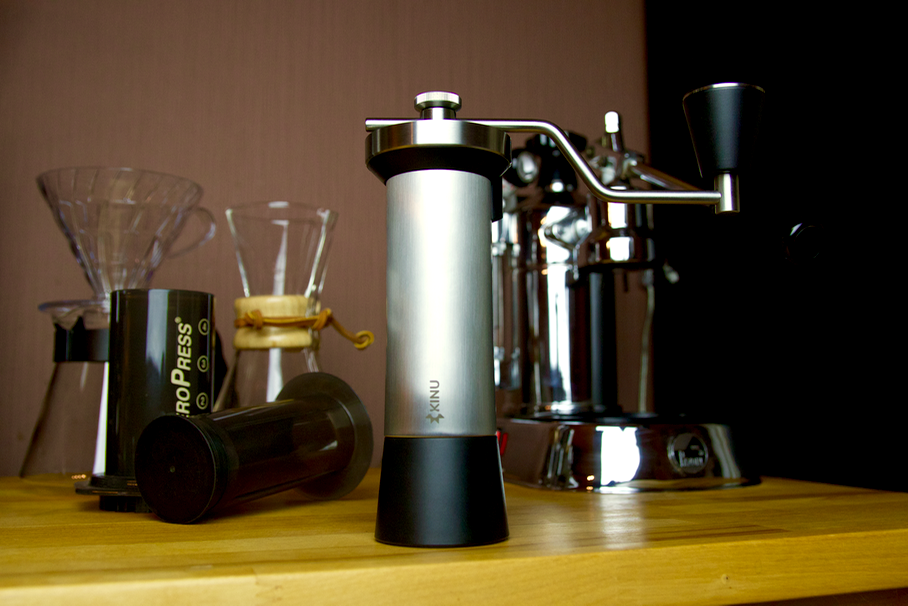 One thing that annoys me though is the popcorning. It's not really a big issue, after all it's easy enough to put the escapees back in and continue grinding.
Now, would I recommend the Kinu M47? That'd be a resounding yes. In fact I found myself using the M47 far more that I anticipated. It's a bit on the pricey side, but the results are well worth it.
One more thing…
Kinu has recently released a slightly smaller, lighter version of the M47: The M47 Traveller. If you intend to use the M47 purely on the go, I'd suggest the Traveller, which is also a bit cheaper at $/€ 219.